About The Pregnancy Massage Clinic
The Maternal Instincts Massage clinic in Caringbah opened its doors in June 2019. Owner and licensed massage therapist, Angela Delauney has a long history of specialty pregnancy therapy in The Shire with a number of other local establishments in Sutherland, Sylvania and Mirandaincluding Bodies Bellies Babies (Sutherland), The Belle Flowers Clinic (Sylvania) and Southern Sydney Pregnancy Massage (Miranda).
About Angela
Angela's passion is offering physical support and relief to women on their journey through pregnancy and beyond. She has healed and soothed thousands of women with her detailed knowledge of the body (both physiological and emotional) as it changes throughout pregnancy. As a mother of three young boys, she has experienced the demands on women first-hand and guides them through this exciting and challenging time. She completed her remedial massage qualifications in 2010 with a focus on prenatal and postnatal massage.
Angela is also a qualified oncology massage therapist, assisting those on their journey through cancer or other chronic illnesses.
About Robin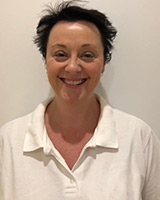 Robin Brown has been treating pregnant women throughout her career and is excited to offer her 20 years experience to the women at Maternal Instincts Massage. Encouraging labour through her induction massages is one of her greatest talents. She divides her time working at Maternal Instincts Massage and Endota Spa at Gymea so you know you'll get an amazing treatment when you book with her.
Robin has a Diploma of Remedial Massage from the NSW School of Massage and has been working as a professional therapist since 2000. During her career, Robin has worked at a chiropractic clinic, health club, holistic centre, day spa and private practice for many years. Robin is qualified in Advanced Remedial Massage and can offer a range of massage styles. These include Pregnancy (Mothercare Massage), Swedish, Sports, Aromatherapy and Lomi Lomi Heartworks (Hawaiian Massage). Robin has 20 years of experience within the health and wellbeing industry and is a recognised Health Fund Provider for Remedial Massage.
About Claire
Claire McCoubrey is a mother of two boys & over both pregnancies she experienced the good & not so good in labour & Caesarean & her fair share of anxieties & worries. She has a Diploma in Remedial Massage, as well as Diplomas in Kinesiology & Mind Body Medicine. Her learning journey started in London, training in Pilates & anatomy & her studies continued back in Australia. Claire's passion is to help women during pregnancy & beyond by reliving hip pain, carpal tunnel & swelling with her incredible knowledge and intuitive techniques. Claire believes Pregnancy is a one of the most amazing experiences and that we're so lucky to be able to experience such an incredible feat and such an honour to be engineered to carry out such a task. But she knows it's not a walk in the park so she really looks forward to working with you during this journey so that you're able to get the best experience possible.
Why is prenatal massage important?
Health benefits for mum and bub
Relief from common aches and pains
Improved sleep
Increased movement – enjoy quality time with your family again.
Balancing hormones and emotions
Are you suffering from:
sciatica (shooting pain from your glutes that often travels down the back of your leg)
lower back and/or tailbone pain
headaches
swelling
carpal tunnel
pain between your shoulder blades/bra line pain
restless legs
leg cramps
lack of sleep
overwhelming emotions
inability to switch off/unwind
With regular prenatal massage, these issues can be relieved providing improved sleep quality and increased movement. As a result you'll be able to enjoy playtime with your older children and when baby arrives the ability to feed without discomfort.
With regular prenatal massage, these issues can be relieved providing improved sleep quality and increased movement. As a result you'll be able to enjoy playtime with your older children and when baby arrives the ability to feed without discomfort.
Research suggests that massage during pregnancy provides additional oxygen to the baby and reduces stress on the mother. Massage offers fantastic health benefits to mum and bub during a time when your body, mind and emotions can feel overloaded. But most importantly it provides effective relief for an aching body.
The benefits of pregnancy massage in regards to labour
It's important to be prepared for labour both physically and mentally. At Maternal Instincts Massage, I can help you achieve both. Regular prenatal massage helps increase your mind body connection making for greater communication between the body and brain when labour arrives. Induction massage can help encourage labour by stimulating contractions and relaxing the muscles involved in the delivery process helping achieve an easier birth.
Having a calm mind can help trigger labour once your body is ready. Allow me to help you switch off from the to do lists and any anxiety you may be having. Enjoy some time where you can breathe and focus on the end result. Massage can also have a positive effect on milk production as it can help to regulate the hormones associated with feeding. It is a well-known fact that stress not only inhibits labour but also decreases milk supply. The benefits of massage during (and after) pregnancy are too great to list them all!
Pregnancy and remedial massage gift vouchers
Want to spoil someone special? Purchase a gift voucher online and have it sent immediately to your email to either send on or print and hand deliver. Gift vouchers are available for a particular treatment or a dollar amount they can put towards a treatment of their choice. They can be purchased through our appointment scheduling tool found here: https://maternalinstincts.as.me. The gift voucher options are listed below the massage appointments.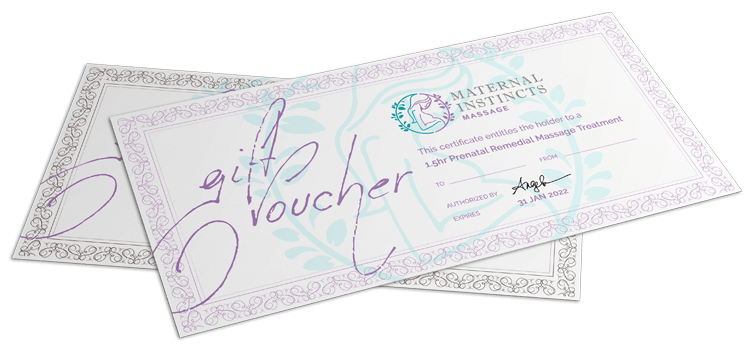 Why choose Maternal Instincts Massage?
Some massage clinics offer to accommodate pregnant clients among their list of many services. However, at Maternal Instincts Massage the focus is solely on women during the pre and postnatal journey. Because of this I can offer the most trusted and effective treatments available. I've offered relief and comfort to thousands of women over the years. This is done through my healing hands but also through our amazing custom built table. Owner and therapist, Angela has supported women during this passage of time with not only her expertise but also her passion, which is why we she has become the Shire's most popular and reliable pregnancy massage therapist.
What to expect?
A treatment at Maternal Instincts Massage starts the minute you arrive. Turn off your phone and start relaxing. If it's your first treatment with us, you'll be asked to fill out a form. Of course bathrooms are on site and available if needed (who are we kidding, you'll need it). You'll then be shown to the treatment room where you'll have a discussion with your therapist regarding your pregnancy and current conditions you may be experiencing and shown how our amazing table works. This is so your treatment can be tailored to exactly fit your needs. After all your questions have been answered and you're ready, you'll be left in peace to disrobe down to your underwear, then (as gracefully as you can) manoeuvre on to the table and cover yourself with a towel. After a few minutes, your therapist will return and check your comfort. Then the magic can begin!
Cancellation Policy
We respectfully ask that you provide us with a 24 hour notice of any schedule changes or cancellation requests. Please understand that when you cancel or miss your appointment without providing a 24 hour notice we are often unable to fill that appointment time. This is an inconvenience to your therapist and also means our other clients miss the chance to receive services they need. For this reason, you may be charged 100% of the service fee. We also reserve the right to require a credit card number to be given to book future appointments so that appropriate fees may be charged if a late cancellation does occur. To cancel or reschedule within 24 hours, please contact 0413 140 284.
Privacy Policy
Maternal Instincts Massage recognises the importance of protecting your privacy. We use information provided directly from you so we can communicate with you. When visiting our website, information is recorded (such as your browser, date, time and pages accessed) for statistical purposes and remains anonymous. Information you provide through this website is used only by Maternal Instincts Massage and not sold or given to third parties.